Flint, Michigan, Family Uses 151 Bottles of Water a Day — But Most Americans Use Way More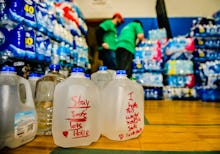 Members of the media converged on Flint, Michigan, Sunday as the two remaining Democratic presidential hopefuls — Hillary Clinton and Bernie Sanders — met for the party's seventh primary debate.
Meanwhile, a few miles down the road, Gina Luster, a 41-year-old mother and Flint resident, was rationing bottles of water for herself, her 7-year-old daughter and her 13-year-old niece to drink, cook and bathe with.
Read More: The Flint Water Crisis Is Just the Tip of the Iceberg — Bigger Battles Lie Ahead
According to CNN, Luster's household uses 151 bottles of water per day. "It just became like second nature to come in and start unscrewing caps and doing whatever you had to do," she said.
Thirty-six of the Luster household's bottles are used for cooking, 36 for washing hair, 27 for drinking and 24 for washing dishes. The rest go toward some combination of brushing teeth, washing faces and whatever else comes up. Each bottle contains 16.9 ounces of liquid. 
It's a stark illustration of how devastating the city's water crisis has been, from both a human and environmental standpoint. Lead-contamination has forced many Flint residents to pass on tap water in favor of bottles for the past year and a half, after the city switched sources from a purchase arrangement with Detroit to the corrosive Flint River.
The administrative neglect that encouraged people to keep drinking this filthy water after they complained about stinky brown liquid pouring from their faucets has sparked nationwide outrage and calls for Michigan Gov. Rick Snyder to resign.
Luster's daughter and niece have suffered hair loss and skin rashes as a result of the contamination, CNN reported. "For a whole year's span, we were drinking that water," she said. "That's finally when they came out and said there was lead in the water."
The amount of bottled water the Lusters are forced to use — about 20 gallons a day for the whole family — pales in comparison to most Americans.
According to the Environmental Protection Agency, the average family of four in the U.S. consumes 400 gallons of water daily. That's 100 gallons a head — approximately 15 times more than each member of the Luster household today. The dramatic influx of plastic bottles in Flint has also fueled concerns about waste and plastic overuse. Between Jan. 5 and Jan. 28, the state of Michigan alone handed out 176,000 cases of bottled water to the city's residents, MLive reported.
Most single-use water bottles in the U.S. are made of polyethylene terephthalate, or PET, one of the most common and recyclable plastics. Yet only 31% of PET water bottles Americans use each year get recycled.
It's unclear how directly the Luster family's usage rate reflects the citywide average, but the EPA's nationwide calculation — which includes water used to flush toilets, wash hands and take showers — shows just how much most Americans take water for granted, especially compared to their countrymen who have recently been forced to regulate use more cautiously.
"We must focus on what should be done for people of Flint," Clinton said in the debate's opening minutes on Sunday. "It is raining lead in Flint, and the state is derelict in not coming forward with the money that is required." Meanwhile, residents are forced to find their own means of survival amid one of the worst American environmental catastrophes of recent years.
h/t CNN
Correction: March 7, 2016