'Views From the 6:' Rumored Track List for Drake's New Album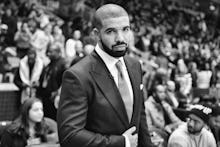 Ryan Emberley/AP
The hype for Drake's upcoming studio album, Views From the 6, has reached levels of hysteria. With an expected April release date, fans have been speculating on what to expect in terms of new material. Some, including users on Reddit, have been guessing on a potential track list. According to one post, Views From the 6 could boast 13 tracks and feature Beyoncé, the Weeknd and Trey Songs, though this has yet to be confirmed.
Read more: Drake's Instagram Photo Is Proof the Release Date for 'Views From the 6' Is Near
Views From the 6's rumored track list, according to Reddit:
1. "Warm" 
2. "No Less" featuring Majid Jordan
3. "Life"
4. "Faded Nights" featuring PartyNextDoor
5. "Don't Cry"
6. "Late Night Call" featuring Bryson Tiller
7. "Fake Shit" featuring Trey Songz
8. "Lost In Life"
9. "Choices" featuring the Weeknd
10. "Emotional"
11. "Can I" featuring Beyoncé
12. "Motions" featuring Roy Wood$
13. "Tell Me" featuring Jhené Aiko
So where's the proof? Redditors point to tweets and possibly fake videos that have since been deleted. As such, some Reddit users are doubtful of the list's authenticity. "Highly doubt it," one user commented on the track list. "I'm sure Drizzy could think of better song names than the shit listed there." 
"It's fake," wrote another user. "Drake only does about 3 features on his big LP's."
According to a short video Rap Genius shared, the guesses on Reddit may not be completely off. The video appears to show some of the album's rumored tracks, including those mentioned on Reddit.
Elsewhere, other publications have offered different potential track lists. Inquisitr, for one, estimates Views From the 6 will boast 17 tracks, including "Smeared," which allegedly features Justin Bieber. Meanwhile, Fuse suggests that previously heard songs like "Right Hand" and "On a Wave" (featuring Tinashe) might be included.
Of course, until Drake formally releases the track list, it's anyone's guess.
The frenzy surrounding the release continues to heighten. Last week, he posted a photo of what appeared to be a member of his entourage with a shopping cart full of bedding — prompting some to suggest Drake was sleeping in the studio to finish the recording process. Perhaps as proof of that, Drake captioned the post, "Home Stretch." 
Since then, Drake has shared several more photos to his Instagram account that suggest long hours in the studio.