Bernie Sanders' Victory in the 2016 Maine Caucuses Is More Impressive Than It Looks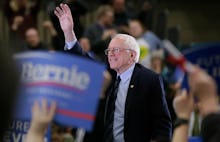 Bernie Sanders cruised to victory Sunday in Maine's Democratic caucuses, notching his third win over frontrunner Hillary Clinton over the weekend.
With 91% of precincts reporting as of Monday morning, the Vermont senator leads the former secretary of state 64% to 36%. Sanders won more than twice as many delegates as Clinton, claiming 15 to her seven.
Read more: Bernie Sanders Just Showed Why He Won't Be Going Away Anytime Soon
An impressive win: That landslide victory came despite the growing sense that Clinton's nomination is once again inevitable, given her commanding delegate lead and her seemingly impenetrable strength in more demographically diverse states.
Despite that dynamic, Sanders managed to outpace then-Sen. Barack Obama's 2008 performance in the state — and to drive higher turnout than the Democrats' historic primary battle that year.
Eight years ago, Obama defeated Clinton 59% to 40% in the Pine Tree State. While the state doesn't provide precise vote totals, instead listing state convention delegates won by the candidates, Phil Bartlett, chairman of the Maine Democratic Party, told reporters that this year's contest turned out far more caucusgoers than in 2008.
Sanders' victory in Maine came one day after he defeated Clinton by substantial margins in the Kansas and Nebraska caucuses. As in Maine, Kansas Democrats also saw higher turnout than in 2008, but because Sanders' 68% to 32% margin of victory was smaller than Obama's eight years ago, he came a few hundred votes shy of the president's 2008 total.
Your grain of salt: Still, overall Democratic turnout still lags behind the record-busting participation in 2008. 
And while Sanders may have helped drive higher turnout in Maine and Kansas, both are overwhelmingly white states. He can point to his substantial victories in those and similar states as evidence that many Democrats hunger for an ongoing, spirited contest, but his failure to make inroads with racial and ethnic minorities poses an exceedingly difficult-to-surmount hurdle for his bid.
Look no further than Louisiana, where Clinton routed Sanders 71% to 23% Saturday, riding a wave of overwhelming African-American support. Thanks to her huge Bayou State margin, Clinton racked up more delegates this weekend than Sanders did, even though he won each of the other three contests.