Who Killed Bankroll Fresh? Rapper's Shooting Sparks Investigation for Motives and Suspects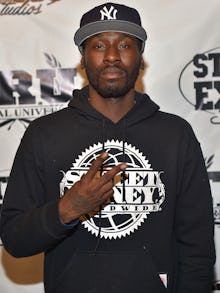 Prince Williams/Getty Images
At around 11 p.m. Eastern on Friday, 28-year-old rapper Bankroll Fresh (born Trentavious White) was killed in a shooting outside Street Execs Studio in Atlanta, WCNC reported. Police reportedly found over 50 shell casings around the studio, WSB reported. White was shot inside the studio and died after being transported to a local hospital.
Police believe no one else was harmed or killed in the shooting, according to WCNC. As of Sunday evening, police had made no arrests, did not have possible suspects nor a motive but are investigating with surveillance footage, according to the Atlanta Journal-Constitution. 
Read more: Killer Mike Interviewed Bernie Sanders in an Atlanta Barbershop
The shooting adds to a series of incidents occurring at recording studios in the area in the past two years, the Atlanta Journal-Constitution reported. Locals have been complaining about the high levels of criminal activity in the neighborhood, with some wanting the studio shut down, WSB reported.
"Just dozens and dozens by people in the neighborhood," Grayson Daughters, with the neighborhood association, said, according to WSB-TV. "And I don't think anyone was the least bit surprised it ended like this, and I'm so sorry someone had to die there."
White was signed by rapper 2 Chainz and was best known for his song "Hot Boy," according to Billboard. The rap group Travis Porter have used the studio, which is partly owned by 2 Chainz.
Juicy J and 2 Chainz, as well as fans, took to Twitter to commemorate White with the hashtag #LongLiveBankroll.