12 of The Most Candid, Shocking And Random Kim Kardashian West Twitter Thoughts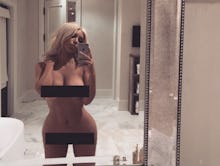 Kim Kardashian West posted a nude selfie on Twitter early Monday morning, with bleach-blonde, messy bed head hair and one hand casually hiding her nipple. "When you're like I have nothing to wear LOL," Kardashian West wrote, adding two black censor strips covering her privates before uploading the photo to Twitter. 
One of the reasons Kim Kardashian West has become so popular, other than the gorgeous body she's ever-so-casually flaunting in her latest naked photograph, is her candid communication with fans. Kardashian West doesn't hold anything back online, clearly — even in the occasion it might offend some, or lead to backlash and critiques of the reality star. 
Read more: Kim Kardashian West Breaks the Internet Again With New Nude Photo
Truly, Kanye West isn't the only one in the modern-day Brady Bunch who speaks his mind on Twitter. Kardashian West frequently uses the social media platform to publicly broadcast some of her most absurd thoughts and strangest ideas, as well as her candid selfies. 
Check out some of Kardashian West's most candid Twitter moments below:
When she revealed her Jeep reminds her of a fellow reality TV star:
 When she revealed her true oral talents:
Was this some RiRi shade?
When she taught the world about an up-and-coming slang term:
When she dropped the most sound advice in the most meta way possible:
When she humble bragged ever so nonchalantly:
Behind the glitz and the glam, Kardashian West is more a "Netflix and chill" type of chick:
She's not just the queen of social media:
In fact, she's all about those daytime talk shows, too:
Next week, on Keeping Up With The Kardashians...
And if she's unsure of something, Kim K prefers to send out a tweet, rather than asking Siri or checking Google:
Luckily, her fans always have her back: