Jennifer Lawrence Has a Fitness Regimen We Can All Get Behind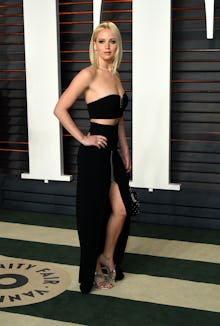 Evan Agostini/AP
Hollywood it girl Jennifer Lawrence's attitude toward fitness is as perfectly nuanced as her attitude toward being single. The actress, known for her "down-to-earth" personality, has essentially vowed to never diet for a role or exercise to lose weight.
"I'm never going to starve myself for a part," she told Elle in 2012 at age 22. "I don't want little girls to be like, 'Oh, I want to look like Katniss, so I'm going to skip dinner.'" She told Elle she was super conscious of that while training for Hunger Games. "I was trying to get my body to look fit and strong – not thin and underfed," she said.
Read more: How to Cleanse Your Body, Feel Great — And Not Starve Yourself in the Process
Lawrence doesn't strive for the wispy Kate Moss look. "We have the ability to control this image that young girls are going to be seeing," she said in a 2013 interview on BBC Newsnight. "Girls see enough of this body that we'll never be able to obtain ... It's an amazing opportunity to rid ourselves of that in this industry. And also, I think, it's better to look strong and healthy. I feel like somebody like Kate Moss running at you with a bow and arrow wouldn't really be scary."
The best part about her Hunger Games fitness routine is its length: only 20 minutes a day with one-to-two off days. Chiropractic sports medicine doctor Joe Harrigan, who trained Lawrence for the film, trained her with brief cardio workouts to enhance stamina, endurance and health, he told Teen Vogue in 2014. 
What's more, Lawrence's attitude toward getting in shape is one we should all adopt. "Jennifer was an utmost professional," Dr. Horrigan told Teen Vogue. "She was never late. She never missed a workout. She never complained. She did everything that was asked of her and she usually did so with a smile."