Is 'Charmed' Getting a Reboot? Here's What We Know About its Possible Revival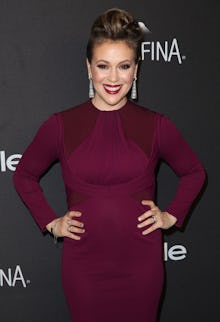 Matt Sayles/AP
With the revivals of former hit television shows Full House and The X-Files, it appears as though Charmed could be next up. Alyssa Milano, who played Phoebe Halliwell in the WB television series, told fans that a reunion could be in the works.
"We're all open for it! It seems like that's going to happen any second," Milano told Entertainment Tonight in February. "I just feel like with all these reunions, and we still have such a cult following, that I feel like someone's going to put that together at some point, and we're all totally on board for that!"
Read more: The 'Ghostbusters' Reboot Disappoints Fans With Disservice to Leslie Jones
However, Milano clarified the status of a potential reboot on Saturday. CBS appears to be developing a reboot, but none of the original cast would be involved in the new series. 
In 2013, Milano expressed interest in reuniting with her former Charmed cast members to create a potential movie for television. Shannen Doherty, who played Prue Halliwell in the TV series, appeared to be open to the idea. 
Charmed appeared on the WB for eight seasons from 1998 to 2006. "Three sisters discover their destiny - to battle against the forces of evil, using their witchcraft. They are the Charmed Ones," according to the IMDb summary.