Kelly Clarkson Says She Was "Blackmailed" Into Working With Dr. Luke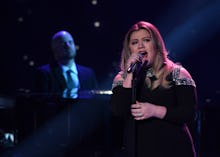 Kelly Clarkson has already gone on the record as having nothing nice to say about producer Dr. Luke — but now she's got some truth to speak as well.
The singer and original American Idol winner spoke to Australia's KIIS 1065 radio station about Dr. Luke, describing him as "not a good guy" and saying she was "blackmailed" into working with him.
"Obviously the dude is a talented guy, but character-wise, no," she said. "I only worked with him — even the last time I worked with him — because literally I got blackmailed by my label. They were like we will not put your album out if you don't do this."
Read more: One Tweet About Kesha Reveals a Double Standard in the Music Industry
KIIS hosts Kyle and Jackie O asked specifically about Clarkson's previous tweet — the one where she said she wouldn't say anything about Dr. Luke because she had nothing nice to say. Clarkson demurred from speaking to Kesha's ongoing legal battle specifically, saying she doesn't "know specifically what happened," but said she's happy to speak to the producer's "poor" character.
"He's just not a good person to me. We've clashed," she said. "I get along with everyone I work with. I love everyone I work with. He's just not a good guy for me."
Clarkson, a Sony artist, added that Dr. Luke never abused her the way Kesha has claimed he treated her, but added that she "can't imagine working with someone who had done something like that."
Listen to the full interview below. The relevant portion begins at an hour and 23 minutes in.
Source: Soundcloud