Democratic Debate Livestream 2016: How to Watch the March 9 Clinton-Sanders Smackdown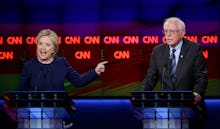 Hillary Clinton and Bernie Sanders brought their fighting words with them to Flint, Michigan for Sunday evening's Democratic debate. They've had three days in which to cool their jets before meeting onstage for the ninth time in the 2016 presidential cycle. Clinton and Sanders will face off at 8:30 p.m. Eastern at Miami Dade University in Miami, Florida; a livestream of the event will be available on CNN's website and via the Fusion network. Univision will also broadcast the debate in Spanish.
Read more: Everything You Missed in the 2016 Democratic Debate in Flint, Michigan
Wednesday will be the final time that the Democrats debate before the Florida primary, where 214 pledged delegates are at stake, making the state one of the biggest prizes of the primary season. Currently, Clinton stands ahead of Sanders, with a grand total of 760 pledged delegates to his 546. 
But there's time to close that gap, if only an inch or so — Michigan, a state with 148 delegates, and Mississippi, with 41, will hold their primaries on March 8. This Democratic debate will be a stage-setter for the Florida primary, yes, but also for the Illinois, Missouri, North Carolina and Ohio primaries. 
Within the Sunshine State itself, Clinton maintains her lead on Sanders, so Wednesday is guaranteed to be contentious — there's little reason to believe that either candidate will put the kid gloves back on. What to expect? Likely more "excuse me, I'm talking" snips, plus the same old talking points: education, affordable healthcare and all issues economic.
We can count on Sanders to push Clinton on her Wall Street relationships and on Clinton to needle Sanders for his stance on gun control and manufacturers. On Sunday, neither candidate was able to offer a straightforward answer to questions about their "racial blindspots," so we may hear their thoughts refined on Wednesday.
And this election being what it is, it's unlikely that the candidates will make it through the evening without commenting on Donald Trump. As it stands, both Sanders and Clinton look poised to beat Trump in a general election, should it come to that; in Flint, both were asked to explain how they'd take down the man who, increasingly if inexplicably, seems to be bulletproof.
Missed Sunday's Flint debate but want to get up to speed before the ninth Democratic debate on Wednesday? We have a play-by-play of the events available here.