Gabby Douglas, #BlackExcellence Ambassador, Wins American Cup, First Title Since 2012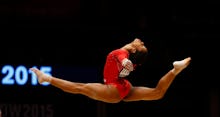 Gymnast and global #BlackExcellence-meets-#BlackGirlMagic ambassador Gabby Douglas won her first title since the 2012 Olympics this weekend when she flipped, tumbled and somersaulted all over the competition at the American Cup in Newark.
Here are three super casual GIFs from her balance beam performance:
Saturday's win builds a strong case for the 20-year-old's bid to make the 2016 U.S. Olympic squad in Rio de Janeiro. In 2012 in London, Douglas became the first black American to ever win the individual all-around gymnastics competition, and hopes to be the first to win that honor in back to back Olympics since Vera Caslavska in 1968.
The American Cup field of competitors did not include Simone Biles, the three-peat all-around world champ who is widely considered the best gymnast on earth. But Douglas' coaches and supporters still like the former-Olympian's chances.
"If somebody in my life has a chance to repeat, she's the one."
"She's one of a kind," Bela Karolyi, former Team USA coordinator and husband of current coordinator Martha Karolyi, told USA Today. "I've never seen something like that in my life. If somebody in my life has a chance to repeat, she's the one."
Meanwhile, fans can continue relishing that the defending individual Olympic gold medalist and the three-time defending world champion are both black women. Looking good, 2016.