Bernie Sanders Won the Democratic Debate in Flint, Michigan — According to Many on Twitter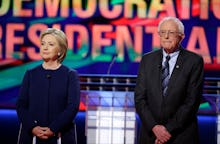 Former Secretary of State Hillary Clinton and Vermont Sen. Bernie Sanders took the stage to debate on Sunday night in Flint, Michigan, and many viewers were feeling the Bern. During the debate and in the hours that followed the Democratic candidates' showing, many users on Twitter seemed to think Sanders delivered a strong performance, and some used the social media platform to applaud the candidate on his policies, demeanor and delivery. Sunday's debate fell just days before the Michigan caucus. 
"Our campaign is generating an enormous amount of excitement," Sanders said during the debate, when pressed by moderators to share how he'd beat Republican candidate Donald Trump if elected as the Democratic nominee. "I think we are exciting working class people, young people who are prepared to stand up and demand that we have a government that represents all of us and not just the few."
Read more: Everything You Missed in the 2016 Democratic Debate in Flint, Michigan
Not everyone thought the night was a success for Sanders. Many users on Twitter and elsewhere blasted the candidate for saying, "Excuse me, I'm talking," to Clinton. Others took offense with a comment Sanders made during a discussion on mental health — specifically, the candidate used the talking point to joke about the GOP candidates. 
"We are, if elected, going to invest a lot of money into mental health," Sanders said. "And when you watch these Republican debates you know why." Clinton made a similar point when she said, "We have our differences and we get into vigorous debate about issues, but compare the substance of this debate with what you saw on the Republican stage last week."
Clinton and Sanders are scheduled to debate again this week on Wednesday at Miami Dade College in Florida, an event jointly hosted by Univision and the Washington Post. After this week's debate, the Democratic candidates will gather twice more to face off: once in April and once in May, though the dates of those debates have not yet been determined.