'RuPaul's Drag Race' Contestant Bob the Drag Queen Talks Season 8 and Diversity in Drag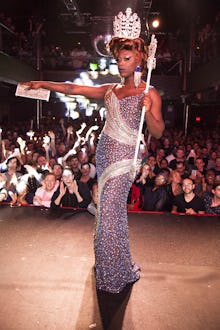 Season eight of RuPaul's Drag Race begins Monday night with the Logo series' 100th episode — and its 100th queen.
The gay-favorite reality competition series once again puts queen of all queens RuPaul in the position of both mentor and harsh critic to 12 younger drag performers in the race to become America's next drag superstar.
Bob the Drag Queen is just one of those 12. She's not the 100th queen, but that's okay. If all goes well, she'll be the season eight winner — a much more important distinction.
Source: Logo
A New York-based queen, Bob (real name Christopher Caldwell) is an incredibly funny queen. Her aesthetic mixes an old-style camp (lip-syncing Patti LaBelle's cover of "Over the Rainbow," for instance) with sharp comic timing. She started doing drag after watching the very first season of RuPaul's Drag Race.
"I've watched every single episode," she told Mic in a phone interview. She was particularly inspired by season one's "Drag on a Dime" challenge. "They made outfits out of what they made at a thrift store. I remember thinking, that just seems really cool and fun. I don't know what it was about that."
Over the past seven years, Bob has honed her act into that of a comedy queen who can do glam just as well. Her best moments come when she mixes the two together, like in Monday's premiere. When the queens are introducing themselves, she enters wearing a sharp black-and-white leotard. Notice that the letters "UNT" are printed on the front. When she forms her arm into a C-shape, it spells out a word that gives the outfit all-new meaning:
Shortly after walking in and posing, she screams and jumps on one of the tables in the Drag Race workroom to do a swimming motion. She's certainly not one for keeping quiet.
"People are always irritated with me," she explained through laughter. "I'm really loud, and I'm really amazing, and really talented. And really humble. I'm used to people being irritated by me. I'm like, girl, whatever. Be irritated. I'm gonna live my dream."
Bob is one of three New York queens this season — and, perhaps most significantly, one of seven contestants of color this season. At a time when diversity in film and television is the hottest topic in the entertainment world, it's refreshing to see a show like Drag Race leading.
This makes sense, of course: Drag has always been an exemplar field in including and featuring nonwhite performers. Yet the past few seasons of Drag Race haven't been as inclusive, with only four queens of color out of 14 in season seven and five out of 14 in season six. Casting 50% non-white contestants is a signal that, as Bob notes, RuPaul is continuing to share the spotlight.
"Whether people love her or hate her, she is the undisputed queen of drag," Bob said of RuPaul. "She's given a platform to so many queens to do what they do on a scale that we never would have been able to achieve. ... She's given so many opportunities to queens of color, performers of color."
Should she come out on top, Bob will become the first black winner of Drag Race since season two's Tyra Sanchez. She's got a great chance: She mixes the elegance of winners like All-Stars champ Chad Michaels with the sharp comedy of someone like season six winner Bianca Del Rio.
Bob has got a ways to go until then, of course — weeks of challenges, drama and more. But keep in mind this is a season all about celebrating 100 episodes. To give the win to a queen who owes her work in drag to Drag Race, especially one who mixes comedy and fashion in the way RuPaul herself does, feels like the right way to honor a legacy.
RuPaul's Drag Race airs Monday nights at 9 p.m. Eastern on Logo. Episodes are available online next-day at LogoTV.com.