Rob Kardashian Blac Chyna Dating Update: ChyRo Posts Instagram Photo, Sets Record Straight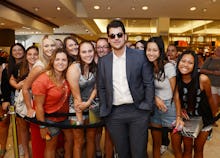 Rob Kardashian's elusive relationship with model Blac Chyna just got even more confusing, after he set the record straight about their deleted Instagram selfies and posting of breakup memes. The reality star and sock line owner told his followers not to fret about his relationship, as he and Chyna would rather their privacy than share their every moment with fans, like his older sister Kim Kardashian West. 
"Chy and I are not broken up we just feel like it would be a lot healthier for our relationship if we kept a lot more to ourselves," Kardashian captioned an extremely close-up selfie of him and Chyna late Sunday night. "It's impossible to have a positive relationship with so much negativity from the media and outsiders and we would appreciate it if everyone respects that -ChyRo."
Read more: Rob Kardashian Hospitalized: What to Know About Diabetes and Its Causes
That's right, not only did Rob Kardashian just solidify his relationship to Blac Chyna, but even revealed the pair's new celebrity couple nickname: ChyRo.
"They had a fight and both need some space," a source told People in a Sunday report about Chyna's suspected breakup with Kardashian. "They have had a great few weeks, but things got too serious too fast. They were spending a lot of time together and not giving each other enough space."
Currently, there are only three photos on Kardashian's Instagram, one of them being his latest selfie with Chyna to clear the air about their rumored breakup. Another appears to be a screenshot image of a birthday cake in anticipation of his March 17 birthday, when he will turn 29. The second is a meme of his sister Kim's daughter North West falling, with the caption, "You ain't got no fuckin' yeezys?" 
Chyna — who has surmounted an extensive following on Instagram after dating the child of her father, rapper Tyga (who is now dating Kardashian's younger sister, Kylie Jenner) — only has a single recent photo with Kardashian on her Instagram profile. What a tangled web. 
Correction: March 7, 2016