Marco Rubio Hasn't Noticed That There's an Anti-Rubio Immigration Message on His Flickr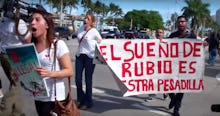 It's that moment when you think supporters are coming to see an announcement for your presidential campaign, but they're actually protesters who've come to denounce your candidacy.
On Marco Rubio's Flickr account, there is a picture of a group of DREAMers protesting outside of a campaign event. They are holding a banner that says "El sueño de Rubio es nuestro pesadilla," which translates to "Rubio's dream is our nightmare." 
Unfortunately, whoever is in charge of Rubio's campaign's Flickr must not be able to read Spanish because they put the picture up with a caption that mistakes the protesters for supporters. 
"Guests arriving for Florida Senator Marco Rubio to deliver his announcement remarks on Monday, April 13, 2015, at the Freedom Tower in Miami, Florida," the caption reads. 
Video footage of the protest on YouTube shows undocumented people speaking out against Rubio's policies, which they believe are ultimately harmful to the immigrant community. 
They use a host of chants in English and Spanish to taunt Rubio, who was making his announcement speech nearby. 
"Rubio, escucha! Estamos en la lucha!" 
"Rubio, listen! We're in the fight!" 
"El sueño de Rubio es nuestra pesadilla!" 
"Rubio's dream is our nightmare!" 
Rubio has been ripped on both sides for his stance on immigration. Ted Cruz has said Rubio is pro-amnesty, while Rubio himself has called President Barack Obama's executive action on immigration illegal and has said he will undo it as president. 
Rubio has touted his own background as the child of immigrants on the campaign trail and even shed a tear when Pope Francis talked about U.S. immigrants during his September visit to the United States. 
Regardless of how many tears he shed during that speech, it's clear the country's immigrants want more from him. If nothing else, he should start by investing in a Spanish-English dictionary.