Republican Debate Online Livestream: When and Where to Watch the GOP Debate on Thursday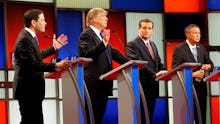 Because we didn't get a satisfactory answer about the actual size of Donald Trump's hands on Thursday in Detroit, there's another Republican debate scheduled for Thursday, March 10 at 8 p.m. Eastern. The event will be hosted by CNN, the Washington Times and Salem radio, at the University of Miami in Miami, Florida. A livestream of the action will be available on CNN's website.
And if anyone is wondering what kind of hard political truths might be examined in Miami's Republican debate, what critical issues will be up for discussion this time, we can only go off what we've seen so far. Which some might describe as political penis-waving. 
Read more: Donald Trump's "Trump University" Scandal Takes Center Stage at Republican Debate
For viewers who would ask what grown men speculating on the size of one another's members might have to do with running the country, we can only say, not much. But the fact that those fights are taking place on a debate stage at all is, as Texas Sen. Ted Cruz pointed out during the last debate, worth consideration.
"Let me just ask the voters at home, is this the debate you want playing out in the general election?" Cruz said, following a squabble between Marco Rubio and Trump. 
Which is to say, it's important to watch, because one of these men will become the party nominee, so it's time to pay attention, both to their actions and their words. Even if personal attacks tend to eclipse the actual issues.
Thursday's Republican debate will be the final one before March 15, a big caucus and primary day on which Florida (99 delegates), Illinois (69 delegates), Missouri (52 delegates), North Carolina (72 delegates), Ohio (66 delegates), the Northern Mariana Islands (9 delegates) and the Virgin Islands (9 delegates) head to the polls. 
During Tuesday's round of primaries, Trump won the Republican primaries in Michigan and Mississippi, plus Hawaii's caucus, while Cruz took Idaho.
As such, Trump is still ahead in primary polls, with 458 delegates and super-delegates to Cruz's 359, Rubio's 151 and Ohio Gov. John Kasich's 54. Ben Carson, who declined to join his fellow GOP candidates for the March 3rd debate although he was still in the race, has since suspended his campaign. 
For those who missed the Republican debate on March 3, we have a blow-by-blow account of the evening available here.