8 Celebrities Who Champion Yoga — And Why They Love It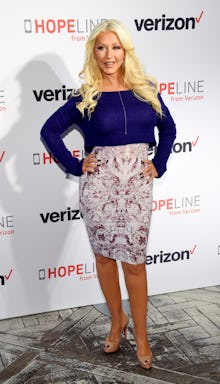 Chris Pizzello/AP
Yoga, a spiritual and physical form of exercise, has plenty of known health benefits, including increased mindfulness, lessening chronic back pain and stress relief. Yoga also has countless celebrity adherents. Here are just a few of the celebs who swear by the ancient art of yoga.
Read: Your Yoga Pants Might Be Bad for Your Health
1. Christina Aguilera
Aguilera has been very vocal about her love of yoga. It's even influenced her music. "Taking a love for yoga and breathing ... not looking at it as an exercise, but just feeling more one with the Earth and everyone being connected, it'll definitely have a reflection on the new record," Aguilera said in 2015, as reported by the Associated Press.
2. Madonna 
Singer and pop superstar Madonna has spoken about her on-again, off-again love of yoga in the past. And, as she rapped on her 2003 track "American Life," she does yoga and Pilates and the room is full of hotties.
3. Sting
Sting not only practices yoga, he teaches it, too. In 2010, the Telegraph reported that Sting was teaching yoga classes to the Royal Philharmonic Orchestra while they were touring together and performing orchestral versions of Police songs.
4. Jennifer Aniston
Aniston is another big believer in the power of yoga, but it's not even the actress' only workout. "Oh my god, I have a lot of favorite workouts. I love cycling, I love yoga of course, and I recently started doing barre method — which is painful and hard," Aniston told Women's Health in 2014.
5. Emily Blunt
British actress Emily Blunt used yoga as part of her workout routine when she was training for her 2014 action flick Edge of Tomorrow. 
6. Adam Levine
Maroon 5 singer Adam Levine has long relied on yoga to help him stay healthy and in shape. According to Men's Health, Levine does "at least an hour of yoga" before every show.
7. Russell Brand
Comedian Russell Brand practices yoga and meditation. In a 2013 interview with the web series Urban Yogi, Brand credited yoga with making him more relaxed and centered.
8. Drew Barrymore
Barrymore has been spotted heading in and out of yoga classes, although, she told OK! Magazine that being a mom makes things a little harder. "I feel guilty when I take the afternoon off to go to a yoga class," Barrymore said.