Zac Efron's 'Baywatch' Workout: Photos Show Actor's Chiseled Transformation for Reboot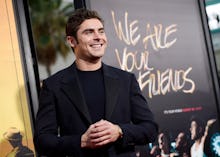 Just to make us feel insecure about our impending summer beach bods (or lack thereof), the iconic series Baywatch is getting a movie reboot coming in 2017. It's generally unfair to shoehorn a movie to one adjective, but suffice to say, the Baywatch reboot — like its predecessor — is suitably ripped. This is thanks in large part to the film's two newcomers: Dwayne Johnson and Zac Efron. The latter's workout routine has certainly transformed him from cut Hollywood heartthrob to even more cut heartthrob (look no further than Efron's Instagram feed for evidence). 
Read more: 'Baywatch' Movie Reboot: Release Date, Cast Info and More
Most notably, Efron shared a photo with his followers on Sunday, which he says in the caption was taken by a paparazzi. While Efron has said he isn't a fan of paparazzi, he gave a shoutout "to this dude" — because damn, he does look ripped. 
Additionally, Efron and Rock shared photos of a tire shrugging contest between the two stars. It's likely part of the film, but the captions from both actors demonstrate a similar willingness to challenge their physical strengths — somewhat emblematic of the classic beach bods from the original series that put the likes of David Hasselhoff (who is poised to return for the reboot) and Pamela Anderson into the national spotlight. 
The Baywatch reboot is slated to hit theaters in May 2017. In the meantime, fans of the series — and, frankly, Efron and Johnson's ripped physiques — can keep checking out their Instagram for updates during the filming process.