JK Rowling Releases 'Magic in North America,' Explains More of the Wizarding World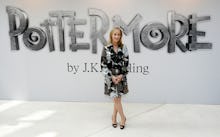 Brace yourself Harry Potter fans: Your queen, Harry Potter creator J.K. Rowling, is here to pull you even further into the world of witchcraft and wizardry with Magic in North America, a new series that will be rolled out on Rowling's website, Pottermore, starting on Tuesday.
Read: JK Rowling Just Revealed One of the Last Great 'Harry Potter' Mysteries
"The first installment of this exciting new series is called "History of Magic in North America" and will be published on Pottermore in four pieces, starting tomorrow at 2pm GMT," said the announcement, released on Pottermore on Monday.
Back in January, Rowling released the name of the North American wizarding school, Ilvermorny, but didn't share many other details about the witches and wizards who attend it. But with the first part of the new series, "History of Magic in North America," set to be released over the course of the coming week, fans can expect some of those lingering questions to be answered.
"Magic in North America will bring to light the history of this previously unexplored corner of the wizarding world in the run up to Fantastic Beasts and Where to Find Them," promised Monday's announcement on Pottermore.
Fantastic Beasts and Where to Find Them, a film based on a book that originally only existed within the world of the Harry Potter series, will star Eddie Redmayne as Newt Scamander and is set for release Nov. 18.
Fans who are craving more details about wizarding life in North America won't have to wait much longer — but anyone who got their hands on a time turner (before they were all accidentally destroyed during a scuffle in the Ministry of Magic) probably already checked out the new writing.