'Views From the 6': Guest Artists and Collaborators Rumored to Be in Drake's Next Album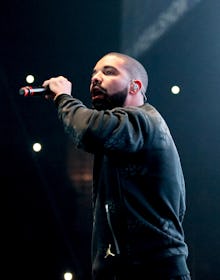 Few albums in 2016 have become as highly anticipated as OVO rapper Drake's upcoming project Views From The 6. However, the Canadian rapper has released little details about who might appear alongside him on the upcoming album. Rumors of features from Beyoncé, Tinashe, Kanye West, Future and Willow Smith have surfaced, although nothing has been confirmed. An alleged track list has also floated around, but it's unclear whether these songs will appear on the official album in April.
Read more: If Drake's New Album 'Views From the 6' Is Anything Like the Last, It'll Be a Classic
"The topic of our talk switches to Drake's upcoming fourth album," music writer Ernest Baker wrote in an exclusive interview with Drizzy. "He only has two songs finished that he likes. One is a collaboration with Beyoncé that he recorded a while ago. The other is a song that he expects to inspire a paradigm shift. His days of releasing layup bangers that everyone loves right away are over. For now."
The rapper released the first single from the long-awaited album, titled "Summer Sixteen," in January. Since then, the 29-year-old artist has posted on Instagram several images with varying captions all containing the words "Home Stretch," indicating that the album is almost finished.
Drake announced that Views From the 6 will be released in April on the OVO Sound Radio show in January. 
"We're here working overtime on it tryna make it everything I know it should be, and the album itself will be coming in April 2016, so 416, you know what's where I'm from," the rapper said on the radio show, referring to the Toronto area code, according to Rap-Up. "I'll give you a date later on. For now, just know we're working, we're ready for anything."