Zendaya Cast in Role for 'Spider-Man' Reboot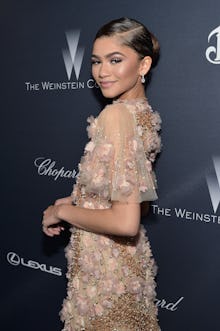 Disney Channel star Zendaya has secured a role in the new Spider-Man reboot Marvel and Sony studios are working on, according to Deadline. Zendaya, 19, will appear alongside actor Tom Holland, also 19. 
"I'm told that actress-singer Zendaya has landed a key role in the ensemble they are building around Tom Holland, who'll play Peter Parker/Spider-Man in the film to be directed by Jon Watts," Mike Fleming Jr. wrote for Deadline. "She was among the actresses who've quietly been testing for roles, and I hear she will play a character named Michelle. Nobody is providing details on whether this is the romantic lead opposite Peter Parker, but it doesn't sound like it."
Read more: Is 'Charmed' Getting a Reboot? Here's What We Know About its Possible Revival
The untitled film will be Zendaya's first major role on the big screen. Jon Watts, director of Cop Car, will be directing the reboot.
 "There are only so many times you can kill Uncle Ben. I love the idea of making a coming-of-age high school movie," Watts said in an interview with Empire Magazine, according to Yahoo News. "We're really going to see Peter Parker in high school and get deeper into that side of it. He's just 15 now...Tom was pretty perfect. He's very athletic. He can actually do a backflip! If he didn't already capture the spirit of the character, with that on top the kid is Spider-Man." 
The Spider-Man film will appear in theaters in IMAX and 3D on July 28, 2017, according to Marvel.