This Bill Would Seek To Castrate Certain Sex Offenders in Alabama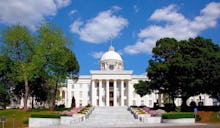 Last week, Alabama state representative Steve Hurst proposed legislation that would make the consequences for sex offenders long-lasting. According to House Bill 365, anyone over the age 21 who has committed a sex crime against a victim 12-years-old or less is eligible for government-sanctioned castration.
The surgery would occur before the perpetrator's release from the corrections facility and the perpetrator would be required to pay for it. 
Read more: This Is What Happens To Registered Sex Offenders on Halloween
Hurst told ABC 7 that since he's introduced the bill, people have called and asked him if he believes the legislation is inhuman. "I asked them, 'What's more inhuman, when you take a little infant child and you sexually molest that infant child when the child cannot defend themselves or get away and they have to go through all the things they have to go through?'" Hurst said. 
Hurst continued: "If you want to talk about inhuman, that's inhuman." 
ABC reported that the bill first needs to make it through a judiciary committee before it's presented to Alabama's House and Senate. Nonetheless, it may meet a similar fate as it did in 2013 — the last time Hurst attempted to pass the legislation, according to the New York Daily News. This is the third time Hurst has proposed such a bill.
While some expressed to ABC that HB 365 would ensure sex offenders get their just deserts, others thought the bill was a step too far. 
Alabama resident Jessica George told ABC, "I understand prison and going to prison for a long time for some kind of crime like that, but to physically mutilate someone, that's a little out there, it's crazy."