Tesla Model 3 Release Date, Price, Specs and Possible Features to Expect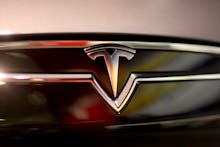 With the release of Tesla's Model 3 car looming, the electric car maker is coming up on an inflection point. With the Model 3, Tesla hopes to win over a new group of electric car buyers — namely those outside the luxury market. Here's what we know about Tesla's Model 3's release date, price, specs and features. 
Tesla Model 3 release date and unveiling: The unveiling of Tesla's Model 3 will take place in Los Angeles, California, just before Elon Musk's company begins to accept online reservations. "We are excited to announce that the Model 3 unveiling will take place on the evening of Thursday, March 31st in Southern California," reads a statement from Tesla published on Tesla Motors Club. A Tweet from Musk confirms that in-store reservations being on March 31, the day of the unveiling, and online reservations kick off April 1. Potential buyers can start putting down deposits in stores March 31 and online April 1 — though cars won't start shipping until 2017.  
Tesla Model 3 price: The new Tesla car will retail at a starting price of $35,000, much lower than its predecessors, according to Forbes. 
Read more: Finally, There's a Tesla That's Priced Like Normal Cars
The price tag of Tesla's upcoming sedan may be even better than it sounds. Jalopnik reports that after rebates and tax incentives, Tesla's Model 3 actually costs closer to $25,000. Beyond the price range for the car, few details are know about the sedan's features. However, according to Forbes, it's possible the Model 3 will have a slightly lower range than Tesla's previous models. 
Tesla Model 3 features: According to Musk, consumers might get fewer features in exchange for an earlier release date. This comes after the automaker's Model X design and launch, which was a teachable moment for the firm, according to Musk.
"In retrospect, it would have better to do fewer things with the first version of Model X, and then roll in ... new technologies over time," Musk said in February, CNN reports. "I do think that there was some hubris there with the Model X."
Yet if Tesla innovations for recent models are any indication, the Model 3 will likely have a lot to offer. Perhaps as proof of that Tesla designed the Model X with a feature to defend passengers from nuclear fallout. And the Tesla Model S is even being steered in the direction of autopilot. The automaker has even released a software update called Summon that links cars to smartphones for remote parking. 
"Summon lays important groundwork for an increasingly autonomous world," Tesla wrote in a press release. "One where the convenience and safety of transport vastly exceed what we are used to today. Autopilot began this process on the highways. Summon begins it in your garage. As the technology advances, the complementary capabilities of each will converge."
As for the Model 3, we'll just have to wait and see what Tesla has devised this time.