This Woman Wants to Tell the World About the 3 "Very, Very Subtle Dimples" on Her Breasts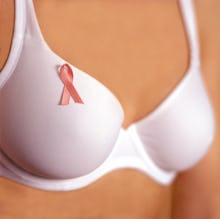 Kylie Armstrong knew something was amiss when she noticed several small dimples on the underside of her breast. 
A visit to her doctor confirmed the worst: The small indents were the beginnings of breast cancer. But rather than take the news in silence, Armstrong posted a photo of the dimpled breast to Facebook, in a post equal parts empowerment and public service announcement. 
Read more: These Are the Artists Empowering Breast Cancer Survivors With Beautiful Tattoos
"I am sharing this because I hope I can make people aware that breast cancer is not always a detectable lump," she wrote. "Please go straight to your [doctor] if you notice ANY change in your breast. It could save your life." 
Sue Fraser, a Australian breast specialist, said Armstrong's post went a long way to reminding women that the disease was often more subtle than the infamous "lump."
"Anything that raises awareness is good. Some people think breast cancer is just a lump, but in fact that is not true, it can present itself in other ways," she told Mashable. "On Facebook, there is always the downside that you might have a whole lot of people getting worried and trotting off to their doctor but it is something that raises awareness."
The post was not, however, without controversy.
According to Armstrong, some Facebook users who ended up seeing the post reported it for violating the company's terms of service. The social network ultimately chose not to remove the photo.
Armstrong underwent surgery for the cancer on March 4 and is reportedly doing fine. 
Get the five stories that will challenge you to rethink the world by signing up for MicCheck Daily.