These Indian Women Have Had Enough With Wedding Body Shaming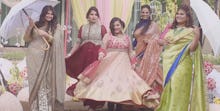 Planning a wedding already has so many stresses — and body shaming shouldn't be one of them. 
Wedding-planning website WedMeGood caught up with five plus-sized Indian women who are speaking out about the unfair double standard placed on brides, especially when it comes to traditional Indian weddings.
"A woman's body is never her own," says Anshuma, a bride from Delhi. "It's always judged, sexualized, objectified ... but a bride's body? That is a whole different thing."
Read more: 10 Celebrities Who Had the Perfect Response to Fat Shaming
Other women chimed in with their stories of struggling with pressures from friends, family and society at-large to be thin. Even Shivani, one of India's first plus-size models, according to WedMeGood, lamented that finding tops in her size is impossible. And Tanvi, a nutritionist, said, "The girl has to be perfect. The boy can be any size, any complexion, anything." 
But they're not letting the negativity get them down. They end the video with a few words of wisdom:
"I'm a curvy woman," said Anshuma. "It's who I am, it's part of me and it's part of what makes me me. I'm going to own it on my wedding day and I hope others do too."
Shivani added, "Stop worrying about your weight. You're beautiful just the way you are. It's your day and understand and internalize your fact that every bride is special."
Watch the rest here: