Tennis Star Maria Sharapova Admits to Failed Drug Test Amid Rumors She's Retiring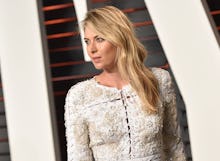 While there were initial rumors that she would be retiring from tennis with a press conference Monday afternoon, No. 7 singles-ranked Maria Sharapova announced she had failed a drug test at the Australian Open. The tennis star said in the press conference that she tested positive for meldonium — an anti-ischemic drug. 
According to Yahoo Sports, Sharapova was informed that she had failed the test by the International Tennis Federation a few days prior. "I don't want to end my career this way," Sharapova told reporters in the press conference, according to Yahoo Sports. "I really hope I will be given another chance to play this game." 
The drug was recently added to the banned substances list by the World Anti-Doping Agency effective in January. Sharapova, 28, has been the highest paid female athlete for 11 consecutive years. 
Sharapova said the banning of the substance caught her off-guard, as she was taking the drug under a different name since 2006 because of "several health issues," according to Reuters. "I was getting sick very often and I had a deficiency in magnesium and a family history of diabetes, and there were signs of diabetes," Sharapova said in the press conference, according to Reuters. "That is one of the medications, along with others, that I received."
Meldonium is typically used to treat patients with ischemia — or a lack of blood flow — according to the Guardian. As a result, if a healthy athlete uses the substance, it can increase their endurance and allow them to exercise for longer periods of time, Yahoo Sports reported. It was added to the list by WADA through "evidence of its use by athletes with the intention of enhancing performance."
The ITF released a statement following Sharapova's conference, in which the organization said the tennis star "will be provisionally suspended with effect from March 12, pending determination of the case." 
However, it is currently unclear how long Sharapova will be banned from the sport by the ITF. In the most recent comparable case, from May, the ITF issued a two-year ban to United Arab Emirates player Hamad Abbas Janahi for an anti-doping violation.
You can check out Sharapova's full press conference below.
March 8, 2016, 8:01 a.m. Eastern: This story has been updated.