20 of the Most Romantic John Legend Love Songs for Your Next Date Night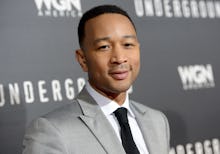 Charley Gallay/Getty Images
There's no denying John Legend's incredible talent in the arts of music and romance. A longtime staple in the R&B genre, Legend's songs often focus on pulling at a listener's heartstrings, constantly toying with their emotions and causing them to fall even deeper in love with his melodies with each song. 
There's no telling just what it is that makes almost every single Legend melody so perfectly suited for a love song. Perhaps it's his partner in life, Chrissy Teigen, who helps keep his passion alive. Regardless, his hits have transcended generations, frequently being used for first dances between newlyweds, as well in the background for a number of rom-coms, including 2012 film Think Like A Man.
Read more: John Legend and Sam Smith's Version of "Lay Me Down" Is Even Better Than the Original
From "All of Me" to "Made to Love," as well as his catchier singles "Green Light" and "So High," Legend has continued to produce awe-inspiring music to make those romantic nights with your beau that much more special since the birth of his career.
Check out some of the most heartfelt John Legend songs below:
"All Of Me"
"Ordinary People"
"You & I (Nobody In the World)" 
"Tonight (Best You Ever Had)" Featuring Ludacris
"Everybody Knows"
"So High"
"Heaven"
"This Time"
"Dreams"
"Everybody Knows"
"I Love, You Love"
"Green Light" Featuring Andre 3000
"Each Day Gets Better"
"Save Room"
"For The First Time"
"Stay With You"
"Asylum"
"Another Again"
"It Doesn't Have To Change"
"Good Morning"
"Who Do We Think We Are" Featuring Rick Ross