The Brawny Man Is Now the Brawny Woman Because #StrengthHasNoGender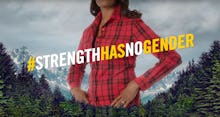 You probably don't spend much time thinking about Brawny unless you're in the paper towel aisle to pick up a couple rolls. But, like Ronald McDonald or the Jolly Green Giant, the Brawny Man is an image that many people know. He kinda looks like a cross between Tom Selleck and Paul Bunyan — until now, that is. 
The Brawny Man now has friends in the woods — the Brawny women who are from diverse backgrounds and have joined the plaid-shirt donned icon in his rustic, outdoorsy setting. 
In a new commercial, cadets, fighter pilots, mountain climbers, civil rights activists and feminists show off their strength and fight the power.
They lead the pack. 
They scale new heights. 
They fly — upside down. 
They put things together. 
And take them apart.
They think on their feet — and off their feet. 
By the time you get to the end of the ad, the message is clear: 
When you go to the Brawny site, there are four different stories shared from four very different women. 
The women include WNBA champion Swin Cash, president and dean of Morehouse School of Medicine Dr. Valerie Montgomery Rice, CEO of Alvarado Construction and first Latina owner of a Major League Baseball team Linda Alvarado and firefighter Maureen Stoecklein. 
Meet your new Brawny women. 
Now, that's strong.