What Channel Is the Democratic Debate On? How to Watch the March 9 Debate in Miami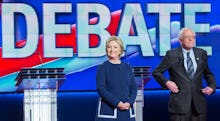 Geoff Robins/Getty Images
Former Secretary of State Hillary Clinton and Vermont Sen. Bernie Sanders will face off in yet another Democratic primary debate this Wednesday in Miami, co-hosted by the Washington Post and Univision. Viewers can watch the debate on Univision or livestream it online here when it airs, starting at 8:30 p.m. Eastern.
Read: Bernie Sanders to Hillary Clinton in Flint Democratic Debate: "Excuse Me, I'm Talking"
Univision's Maria Elena Salinas and Jorge Ramos will co-moderate alongside the Washington Post's Karen Tumulty. The debate will be held on the campus of Miami Dade College, according to Univision.
During Wednesday's debate, both Democratic candidates will likely work to address the concerns and questions of Hispanic voters. According to a poll conducted by the Washington Post and Univision News, 51% of Hispanic voters polled said they will support the Democratic candidate, no matter who it is, but 32% said they were still unsure.