What Channel Is the Republican Debate on? Here's Where to Watch Thursday's GOP Debate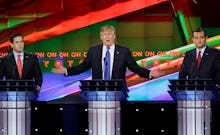 The candidates for the Republican presidential nomination will face off again on Thursday at a Republican primary debate cosponsored by CNN, the Salem Media Group and the Washington Times. The debate will air on CNN at 8:30 p.m. Eastern.
Read: Everything You Missed From the Republican Debate in Detroit
Barring any last-minute changes in the race, Thursday night's debate will feature yet another match up between the four remaining Republican candidates: real-estate mogul and TV personality Donald Trump, Texas Sen. Ted Cruz, Florida Sen. Marco Rubio, and Ohio Gov. John Kasich. 
Thursday night's debate on CNN comes just one week after the last Republican primary debate, during which frontrunner Trump defended the size of his penis and called Rubio a "little guy." Only time will tell what the Republican candidates have in store for the public on Thursday night.