2016 Primaries: Your Guide to the March 8 Republican and Democratic Elections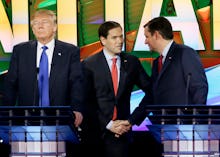 Did Donald Trump's disappointing performances in last weekend's nominating contests represent a temporary setback on his path to the Republican presidential nomination, or did they portend a perilous path ahead for the longtime frontrunner?
The GOP contests in Michigan, Mississippi, Idaho and Hawaii on Tuesday will go a long way toward answering that question, and set the tone for the delegate-rich contests on March 15 — by which point we'll have a pretty good idea if Trump is going to clinch the nomination this spring, or if we're headed to the first contested convention in decades.
Read more:
With Marco Rubio faltering, Ted Cruz ascendant and John Kasich showing flickers of life, the contours of the GOP race have shifted from just one week ago, when the conventional wisdom held that the race was effectively a two-man contest between Trump and Rubio. 
Notching wins in Texas, Oklahoma and Alaska, Cruz eclipsed Rubio on Super Tuesday, but it remained unclear how serious a threat he posed to Trump's commanding delegate lead. Cruz's resounding wins in Kansas and Maine on Saturday, along with his near-upsets in Kentucky and Louisiana, solidified his status of Trump's chief rival, even if the lay of the land in later contests puts him at a disadvantage.
Meanwhile, Democratic hopefuls Hillary Clinton and Bernie Sanders will face off in Michigan and Mississippi on Tuesday — both contests Clinton is heavily favored to win. The question for Sanders: Can he cut Clinton's margin in these states, showing an ability to make inroads with skeptical constituencies?
Here's a guide for watching the day's contests.
Michigan
The onetime crown jewel of American industry and manufacturing, Michigan has fallen on hard times in recent decades, with a large population of disaffected working-class whites — a core Trump constituency — reeling from the effects of deindustrialization.
To stave off further doubts about his durability, the billionaire populist needs a win here. He's likely to get it, with every recent poll save one outlier finding him with a double-digit lead. However, a Monmouth poll released Monday showed Trump's lead narrowing in recent days.
Surveys show a tight race for second place between Kasich, who's made an aggressive play for the state, and Cruz. Meanwhile, Rubio lags far behind, barely cracking double-digit support in the RealClearPolitics polling average. If he can't crack 15% support on Tuesday, he won't receive any of the state's 59 proportionally awarded delegates.
On the Democratic side, Sanders is at risk of being walloped, despite his sharpened attacks on Clinton's past support for free trade agreements. Of four recent polls, two show Clinton besting Sanders by about 25 percentage points, while the other two show her lead lower, around the teens. Clinton and Sanders will split 130 pledged delegates according to their respective shares of the vote.
Keep an eye on how Sanders does with African-American voters in cities like Detroit and Flint. If Clinton buries him with black voters there, it will indicate that her overwhelming victories with African-Americans in the South are a matter of more than regional dynamics, instead pointing to an impenetrable advantage with a vital Democratic constituency.
Polls close at 8 p.m. Eastern.
Mississippi
While Michigan may be the day's largest delegate prize, Mississippi also comes with high stakes for Trump. After dominating the South on Super Tuesday, he eked out just a 3.6-point win over Cruz in Louisiana on Saturday, despite polls showing a massive Trump lead. The frontrunner hopes to avoid a repeat — or worse — in the Magnolia State.
The state's 40 delegates are awarded proportionally among candidates receiving at least 15% support, a hurdle Trump and Cruz are sure to clear. It's less certain that Rubio will. A Magellan poll conducted in late February, before the tide turned against Rubio, found Trump leading with 41% support, followed by Cruz at 17% and Rubio at 16%.
Cruz received a major boost in the state on Monday, when Gov. Phil Bryant endorsed his candidacy.
In the Democratic contest, Clinton will go home with the lion's share of the 36 pledged delegates. Powered by a commanding lead with black voters, Clinton boasts a 63% to 19% lead over Sanders in the RealClearPolitics average.
Polls close at 8 p.m. Eastern.
Idaho
An Idaho Politics poll released Sunday found Trump with an 11-point lead over Cruz, claiming 30% support to Cruz's 19% and Rubio's 16%.
The poll was conducted entirely in February, though, and Idaho's strong conservative bent means that Cruz, who secured the endorsement of tea party Rep. Raul Labrador in mid-February, stands an excellent chance of victory. 
The state's 32 delegates will be awarded proportionally to candidates who clear a 20% threshold.
Some polls close at 9 p.m. Eastern, while all polls will be closed by 10 p.m.
Hawaii
The good news for Marco Rubio: With a history of backing establishment-minded Republicans like former Gov. Linda Lingle, the Aloha State offers him his best chance of a victory Tuesday.
The bad news? The state's caucuses only award 19 delegates — and they're doled out proportionally. There haven't been any public polls of the state, so it's not even clear how strong Rubio is there.
Given Hawaii's remote Pacific location, results won't come in until late. Its caucuses end at 1 a.m. Eastern.