Kim Kardashian West Claps Back at Her Slut-Shamers in a Scathing Tweet Storm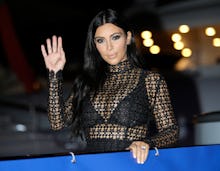 On Monday, Kim Kardashian West exploded the internet when she posted a nude selfie to her Twitter page with the caption, "When you're like I have nothing to wear LOL." 
The tweet immediately went viral, garnering over 100,000 retweets — and a deluge of slut shaming in response. 
Twitter users berated Kardashian West for taking nude photos when she's a mother and a wife, and Bette Midler even chimed in with her own viral tweet. 
Kardashian West didn't think she was so clever. Monday night, she responded to Midler's comments on Twitter:
And then she took out Piers Morgan, who offered to buy Kardashian West clothes to cover up, and then actress and model Chloë Grace Moretz, who suggested she make herself more of a role model for young women.
And to really prove she DGAF about your social mores, she reminded everyone she's making too much money to care what anyone has to say...
...and then tweeted out another nude for good measure.
#Liberated indeed. Any other takers?
Get the five stories that will challenge you to rethink the world by signing up for MicCheck Daily.