Is AC/DC Still Touring? Group Suspends Tour After Sobering Medical Advice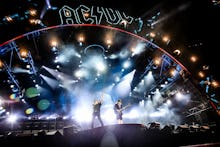 Rich Fury/AP
After urging from doctors, iconic Australian rock band AC/DC is rescheduling 10 upcoming tour dates. In rescheduling the dates, members of AC/DC were faced with a sad truth: that years of life as rock stars can take its toll, particularly on musicians' health. Doctors told AC/DC lead singer Brian Johnson that if he continued to tour, he could risk total hearing loss. As such, the band released a statement on Monday, alerting fans of their decision to cancel upcoming shows they were slated to perform as part of the U.S. portion of the Rock or Bust World Tour. 
"Tomorrow's show in Atlanta through Madison Square Garden in New York, NY in early April will be made up later in the year, likely with a guest vocalist," reads the band's statement. "More information regarding these rescheduled shows to come. Current ticket holders can hold on to their tickets for the rescheduled dates or receive a refund at point of purchase."
Read more: Foo Fighters Just Played a Surprise Concert of the Greatest Rock Covers of All Time
The band also shared the news via a post on Instagram, and AC/DC fans left words of love, support and also disappointment in the comments section. "In Brian we trust, it's rock or bust," wrote one user. "See you in Vienna!"
"Best of luck Brian," commented another Instagram user. "Your health is the most important thing right now. A piece of my heart broke when I heard the news. Was so looking forward to seeing all of y'all again in Sunrise, FL."
At one time, AC/DC was comprised of vocalist Johnson, percussionist Phil Rudd, bassist Cliff Williams, lead guitarist Angus Young and rhythm guitarist Malcolm Young. Bon Scott, the famed vocalist who died in 1980, was also a member AC/DC. According to the Rock and Roll Hall of Fame, which heralds the group as "one of the best-loved and hardest-rocking bands in the world," the group's first gig was a New Year's Eve concert in Sydney, Australia, in 1973. 
Here are the tour dates the band has rescheduled:
March 8 in Atlanta, Georgia 
March 11 in Ft. Lauderdale, Florida
March 14 in Greensboro, North Carolina
March 17 in Washington, D.C. 
March 20 in Detroit, Michigan
March 23 in Columbus, Ohio
March 26 in Cleveland, Ohio
March 29 in Buffalo, New York
April 1 in Philadelphia, Pennsylvania 
April 4 in New York, New York