Fans React to Mac Coming Out as Gay in 'It's Always Sunny in Philadelphia' Season Finale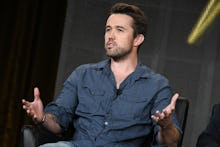 Richard Shotwell/AP
On March 2, in part one of the season 11 finale of It's Always Sunny in Philadelphia, Mac, Dee, Dennis, Frank and Charlie boarded a Christian cruise liner, per Mac's request, according to New Now Next. In the episode, Mac announces to the gang (and fans) that he's gay — and no one was surprised. 
Mac's always been a little fanatical about religion, and the cruise is his way of trying to resolve his internal conflict — but not without making his friends face their inner demons and "take a missionary position," as Mac put it, according to AV Club. But, as with everything in the show, Mac's plot doesn't go as planned. So when Mac tries to convert a gay male couple, the tables turn when they offer to convert him instead, prompting him to come out as gay to his friends, and fans.  
Read more: It's Always Sunny in Philadelphia Season 9: 5 Ways the Gang Taught Us to Be Better People
Fans of It's Always Sunny in Philadelphia have suspected Mac's suppressed homosexuality for quite some time, according to UpRoxx. In a season nine episode when Mac's out gay and equally tough cousin visits, the gang (sans Mac) simultaneously concludes that Mac is also gay.
For the most part, fans reacted positively to Mac's coming out, saying it was "incredible," while others couldn't believe it actually happened.