Justin Trudeau Given New Name, Honorary Membership by Indigenous Tsuut'ina Nation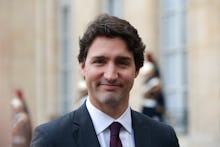 Canadian Prime Minister Justin Trudeau was honored with a new name and headdress by the Tsuut'ina First Nation last week. 
The name — Gumistiyi — means "the one who keeps trying," and recognizes the prime minister's efforts to strengthen relations with indigenous Canadians, according to CBC News.
"I commit to you that the Government of Canada will walk with you on a path of true reconciliation, in partnership and in friendship. I will not lose sight of that goal," Trudeau told the crowd, which gathered Friday after he met privately with First Nations leaders near Calgary.
"I will remember the responsibility of the great honor you bestow on me today."
The relationship between aboriginal Canadians and the Canadian government is long and fraught, but Trudeau has taken key steps to repair it. In contrast to his predecessor, Stephen Harper, Trudeau has committed his administration to a national inquiry into the issue of missing and murdered indigenous women. 
Since 1980, an estimated 4,000 women and girls of aboriginal descent have gone missing or been murdered in Canada — making up 16% of female murder victims or disappeared women, despite being just 4% of the female population.
"Our women are central in our community and give you thanks for recognizing the importance of justice for our women," Tsuut'ina Chief Roy Whitney-Onespot said to the prime minister on Friday.
Canada has also taken steps to reconcile with victims of its Indian Residential School system, which, from 1876 to 1996, herded thousands of indigenous children into boarding facilities run by the Catholic Church. These schools were designed to force their assimilation into mainstream Canadian culture.
They were also rife with abuses. Physical and sexual assault ran rampant, and over 6,000 children died in the school system over the course of its existence, according to the Guardian.
Trudeau's government hopes to turn a corner on this ugly history, both by engaging more deliberately with First Nations' concerns, and by treating them more as sovereign nations within Canada. At the ceremony, the prime minister also worked the crowd by thanking them in the Tsuut'ina language:
The ceremonial war bonnet the Tsuut'ina gave Trudeau is an honor symbolizing accomplishment, bravery and peace building, according to CBC News.
"We have the right to give this headdress to who we feel is worthy," said Hal Eagletail, a Tsuut'ina member who acted as master of ceremony on Friday. "In our Tsuut'ina culture, when you're elected a leader, you've earned that right to receive the headdress, because you need to go do battle for us."
Trudeau then joined tribal members for a traditional dance:
What a time to be alive.
h/t Indian Country Today Media Network