Lena Dunham Announces She'll No Longer Be Photoshopped: My Body Isn't "Fair Game"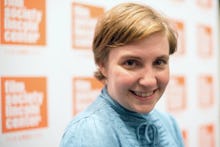 Lena Dunham wants a divorce from Photoshop.
The Girls creator and star wrote a lengthy essay in her Lenny newsletter in which she denounces the photo editing tool, saying that from here on out, she wants photos of her to be, well, of her.
Read more: Lena Dunham Calls Out the Spanish Magazine That Photoshopped Her for Its Cover
"The gap between what I believe and what I allow to be done to my image has to close now," she wrote. "If that means no more fashion magazine covers, so be it. I respect the people who create those magazines and the job they have to do. I thank them for letting me make a few appearances and for making me feel gorgeous along the way. But I bid farewell to an era when my body was fair game."
The letter comes a week after Dunham called out Spanish magazine Tentaciones for using an altered image of her on the cover.
"I am genuinely honored to be on your cover... BUT this is NOT what my body has ever looked like or will ever look like — the magazine has done more than the average Photoshop," she wrote on Instagram. "So if you're into what I do, why not be honest with your readers?" 
In response, the magazine said that the photo in question, an image that had originally appeared in a 2013 issue of Entertainment Weekly, had not been retouched by them and was approved by Dunham's publicist.
"I didn't have the energy or the drive to figure out at what point in its journey this image had lost my dimpled thighs or bulge of bicep fat, or whether my chin had been recrafted," Dunham wrote in Lenny. "I also didn't have any interest in shaming or blaming anyone in the process. Every one of these people was being kind to me, supporting and protecting me by releasing an image they found charming and appealing. I also found it charming and appealing. But in the same way I find Emily Blunt charming and appealing: She's not me."
From all of this, Dunham was able to recognize the real issue: "I don't recognize my own fucking body anymore," she wrote. It was then that she realized she was done. Not done with having her photo taken — it comes with the territory of her celebrity, after all — but done allowing those photos to be retouched or manipulated without her consent.
Recognizing that she is not the first to speak out, Dunham mentions Kate Winslet, Jamie Lee Curtis and Zendaya, all of whom have been vocal about the need for representing women as they are. In 2015, Winslet famously added a "No Photoshop" clause to her L'Oreal contract, Curtis posed for More magazine without makeup or retouching and Zendaya released unretouched images from a shoot with Modeliste magazine. The overarching message: Our bodies are not yours to manipulate.
Dunham said she's open to more photo shoots with just one caveat: "If any magazines want to guarantee they'll let my stomach roll show and my reddened cheek make an appearance, I am your girl Friday... This body is the only one I have. I love it for what it's given me. I hate it for what it's denied me."
Her byline at the end supplies one of the most Dunham-esque of send-offs: "Lena Dunham has five very different scars on her abdomen. Don't even ask."