Will Erin Andrews Actually Get Paid the $55 Million She Won in the Hotel Stalker Lawsuit?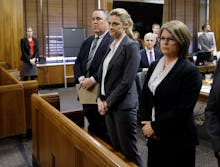 Mark Humphrey/AP
Fox Sports broadcaster Erin Andrews was awarded $55 million in damages Monday in a lawsuit against stalker Michael David Barrett and operators of the Nashville Marriott, the hotel that unknowingly aided him. Andrews was secretly filmed during her stay in the Nashville Marriott in 2008, and millions have watched the recording.
While the case is a symbolic victory for victims of sexual exploitation, it's highly doubtful that Andrews will wind up being paid even half of $55 million — and maybe downright impossible that she'll be paid the full amount.
Read more: Erin Andrews Says ESPN Forced Her to Discuss Her Stalker and 2009 Hotel Video on Air
Here Are 8 Steps That Could Leave Andrews With a Mere Fraction of Her $55 Million Lawsuit:
1. Andrews' 54 year-old stalker Barrett is responsible for paying Andrews 51%, roughly $28 million of the damages. He likely qualifies as judgement proof, meaning he doesn't have to pay what the court ordered him to because he just doesn't have the money, legal analyst Michael McCann wrote for Sports Illustrated.
While he was an insurance executive before being incarcerated in 2010, it's unclear whether he's been employed since he was released from prison in 2012. Furthermore, his lawyer, David Willingham, said back in 2010 he lost his entire life savings, SI reported.
2. In many co-defendant cases, a "joint and several liability" rule would make the hotel operators, West End Hotel Partners and Windsor Capital, responsible for paying the damages Barrett couldn't pay. But recent Tennessee law adjustments made that rule irrelevant if both parties didn't intentionally take part in the crime, according to SI.
In this case, since Barrett deceived the hotel, the operators likely aren't responsible for paying his portion of the lawsuit. However, McCann noted that Andrews filed her lawsuit before some of the laws changed, so this is an issue to keep an eye on.
3. While the two companies that operate the Nashville Marriott where everything went down are lucrative companies, it's unclear if they can afford to pay Andrews the $27 million they owe her, SI reported.
If not, they may resort to declaring bankruptcy, and delay paying Andrews, McCann reported. Bankruptcy cases can take several years to litigate.
4. But the hotel companies will probably appeal the verdict anyway on the grounds that it's a colossal lawsuit for a case involving no physical damage, according to TMZ. Other Tennessee cases involving wrongful death have seen around $1 million in settlements. 
Legal experts told TMZ the companies will likely settle for $20 million.
5. Since bankruptcy and an appeal could take years to play out, Andrews and the two hotel companies could enter an out-of-court settlement, in which Andrews would negotiate the damages in exchange for guaranteed payment, McCann reported.
6. Assuming she doesn't get a penny from Barrett and gets around $20 million from the hotel, her lawyer will take almost half of that in lawyer fees, leaving her with roughly $12 million, according to TMZ.
7. Then there's the cost of preparing the case, which Andrews is responsible for paying and TMZ was told is around $1 million.
8. Finally, damage awards in cases with no physical damage are taxable unless Andrews can prove at least slight physical damage. Taxation would probably leave her with around $6 million in the end, according to TMZ.
And that's how Andrews will likely receive roughly way less than the $55 million she was awarded Monday.
March 8, 2016, 12:50 p.m. Eastern: This story has been updated.
Correction: March 8, 2016