This Man Used Eyeshadow on His Beard in the Latest Bizarre — Or Genius? — Beauty Hack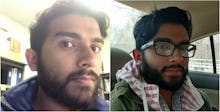 Now, we've heard of eyeshadow being used in some off-kilter ways (under-eye concealer, tattoo coverup, bronzer), but beard thickener? That's definitely a new one, or perhaps the start of a bizarre and intriguing trend.
Read more: Science Shows That Having a Beard Could Help You Fight Sickness
Reddit user naz2292 uploaded "before and after" photos asking folks to critique his beard after his friend had used eyeshadow to fill it in.
Here's the before:
And here's the after:
Hardly a world of difference to the casual observer, but if his Tyra Banks smize in the "after" is any indicator, the confidence boost was worth the added coloration.
His friend, Reddit user ashmush, filled in the patches with e.l.f. Cosmetics' Mad for Matte Eyeshadow Palette before adding concealer and eyeliner under his eyes.
Redditors seemed pleased with the result:
The makeup [definitely] takes you from "normal guy" to "majestic sea [captain]." —kimchinaut 
The critics have spoken: IT'S POSITIVELY MAH-JES-TIC!
Turns out, ashmush isn't the only one. "I do the same for my BF," wrote Snyegurochka. "I used [dipbrow] on the BF's 'stach," wrote MariacheMustache. 
So could this be the start of a full-blown movement for patchy-bearded men everywhere? It wouldn't be completely out of nowhere: Brands like Kenmen already offer specifically designed Brow & Beard Corrector, while similar brands hawk beard oil, even beard shampoo. We'll take that over glitter beards any day.
h/t Allure