14 Kim Kardashian West Instagram Photos That Prove She's the Queen of Social Media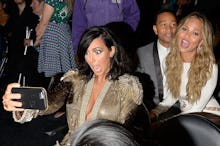 Lester Cohen/Getty Images
There's no denying Kim Kardashian West's star power is heightened by her intense, sometimes candid and often risqué communication with her loyal online fanbase. From nude selfies in her bathroom to behind-the-scenes photos from her many magazine spreads, Kardashian West keeps fans in her pocket at all times, bringing them wherever she goes throughout her celebrity life.
It's no wonder, for that reason alone, why Kardashian West is considered the queen of social media. Not only does the reality TV star find time every day to connect with the people responsible for keeping her famous, but Kardashian West does so in a way that is revealing, raw and emotional — even if her posts are admittedly bizarre at times.
Read more: Kim Kardashian West Claps Back at Her Slut-Shamers in a Scathing Tweet Storm
In case you need any more proof Kardashian West is the queen of social media, just take a look at her Instagram. 
Here are some Instagram moments when Kardashian West proved she is the rightful queen of the photo-sharing app.
1. and 2. When she dropped two nude photos, garnering a combined total of nearly 2 million likes
3. When she gave fans a glimpse of her first date with her husband, Kanye West
4. When she revealed the first picture of her newborn son, Saint West
5. When she uploaded a selfie with the king of major keys to success, DJ Khaled
6. When she and North West slayed in fur while visiting New York City
7. When she taught fans about her red carpet boob tape trick, looking absolutely flawless in the process
8. When she proved she's the king of controversy's biggest fan
9. When she took an Instagram selfie without even holding her own phone
10. When she wasn't shy of her past friendships and outfits, no matter how unflattering both might be
11. When she shared behind-the-scenes pictures of her meeting with presidential candidate and former Secretary of State Hillary Clinton
12. Whenever she takes a photo with fellow queen Jennifer Lopez
13. When she shared what Christmas looks like at her mother, Kris Jenner's house (If Kim K. is the queen, what does that make her mom?)
14. In fact, even from her very first photo on Instagram, Kardashian West has been proving she is the queen of social media, no matter how effortless it may seem.