Tech CEOs and Top Republicans Met at AEI World Forum to Plot How to Stop Donald Trump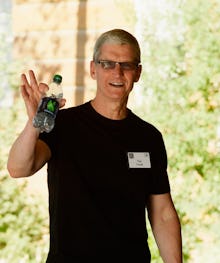 It seems like the whole world is looking at the U.S. electoral process and thinking, "Someone's got to put a stop to this." And if you're sick of the way the Donald Trump phenomenon injects existential dread into every political and social conversation, worry not — America's oligarchs are on the case.
Last weekend, the titans of the tech industry flew out to a private island resort off the Georgia coast to meet with top Republicans at the American Enterprise Institute's World Forum. Though many topics about governance and business were discussed, the Huffington Post reports that the "main topic" was stopping Donald Trump.
"A specter was haunting the World Forum — the specter of Donald Trump," conservative commentator Bill Kristol reportedly wrote in an email from the conference. "There was much unhappiness about his emergence, a good deal of talk, some of it insightful and thoughtful, about why he's done so well, and many expressions of hope that he would be defeated."
Apple CEO Tim Cook, Google cofounder Larry Page and Tesla CEO Elon Musk were in attendance, representing the tech sector. The list of top Republicans included Karl Rove, House Speaker Paul Ryan and Senate Majority Leader Mitch McConnell. AEI, as a matter of policy, does not confirm the list of attendees.
"A specter was haunting the World Forum — the specter of Donald Trump."
Donald Trump's cascading victories in state after state have stoked anxiety with Republicans that he could doom the GOP in the 2016 election if he became the party nominee. At the World Forum, Karl Rove reportedly dissected Trump's biggest weaknesses: his inability to be a role model and the possibility of what could happen if he were in arms reach of nuclear launch codes, according to the Huffington Post.
But some Republicans don't want to dissect the social root of Trump's authoritarian rise. They just want it to stop.
Kristol wrote, "In general, there's a little too much hand-wringing, brow-furrowing and fatalism out there and not quite enough resolving to save the party from nominating or the country electing someone who simply shouldn't be president."