The Best Dating Sites for Finding a Serious Relationship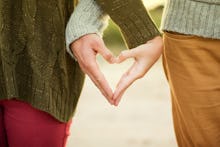 Unsplash
People use dating sites and apps for different reasons: flirting with strangers, no strings attached hook-ups, summer flings etc. — but some users are looking for something more serious (perhaps even permanent). If you're in search of a long-term relationship and everything that comes with it, here are the sites with the best odds for finding just that.
Read more: This Video Perfectly Exposes a Sexist Double Standard Women Face While Dating
Dating website eHarmony boasts "600,000 married couples who met on eHarmony," and writes on their site that, on average, "438 people get married every day in the United States because of eHarmony." 
That number comes from a 2012 survey that was paid for by eHarmony, so take from it what you will — but it's certainly possible that eHarmony's reputation for leading to marriage may have the circular effect of attracting people who are looking for serious relationships.
Be forewarned, however, that eHarmony has a bit of a checkered history when it comes to inclusion. The company faced a lawsuit back in 2005 for discriminating against same-sex couples, reports CNN. In February, eHarmony CEO Neil Clark Warren, who co-founded the company as a Christian dating site, told CNN, "We didn't want to pretend to be experts on gay and lesbian couples ... We're not anti-gay at all ... It's a different match."
In the same interview, Warren defended eHarmony against apps like Tinder, saying that Tinder was used for hook-ups, not marriage.
Match.com is another dating site that boasts a high success rate when it comes to marriages and relationships. According to studies conducted in 2009 and 2010 — again, paid for by Match.com itself — the site "has led to more than twice as many dates ... and twice as many relationships" as its next leading competitor.
Despite the purported success rates of sites like Match.com and eHarmony, marriages and long-term relationships can still emerge from Tinder and other similar dating apps.
The best way to meet someone may still be in person, however, especially if you're looking for a commitment. A Pew Research Center Survey released in February found that among Americans sampled "who have been with their spouse or partner for five years or less ... 88% say that they met their partner offline – without the help of a dating site."