Spotify Shares Top 10 Streamed Female Artists In Honor of International Women's Day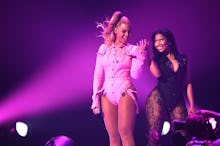 When preeminent feminist philosopher Beyoncé said girls "run the world" in 2011, the world listened. Yet it seems some countries were listening more carefully to her words than others.
In honor of International Women's Day, Spotify shared lists of its most streamed female artists in the United States and abroad. Considering the fact that the American entertainment industry is still the largest in the world, the lists are very similar. However, there are are some surprising differences. The position of one name stands out in particular: Nicki Minaj.
Check where she appears on the list of top female artists in the US.
1. Beyoncé
And look where she appears on the international list:
1. Rihanna
Nowhere.
It's hard to guess what's caused this massive gap in interest. Hip-hop is a global movement, but the scenes are still young in many countries. Minaj's fierce rap aimed toward reclaiming female sexuality aren't nearly as accessible as the Ariana Grande, Ellie Goulding and Selena Gomez songs of the world.
The top spot is also different on each list. Beyoncé has it locked down on the home front, while Barbadian-born and bred Rihanna owns the globe. Funnily enough, Rihanna, Beyoncé and Nicki Minaj are three of the biggest names representing Spotify's direct rival Tidal.
To recognize those artists who aren't writing blockbuster pop, Spotify has also released playlists honoring the top women in rock, hip-hop, metal and more. That way, every music fan can celebrate International Women's Day in the genre of their choice.