This Google Doodle Is Celebrating International Women's Day in the Best Way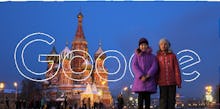 If the 2016 Google Doodle in honor of International Women's Day is any indication, the search giant is succeeding in its goal to make its doodles include more women and people of color. The interactive doodle features diverse women from all over the world and celebrates their full personhood.
While Google Doodles have previously paid "tribute to women who have changed the course of history, sometimes in the face of seemingly insurmountable obstacles," the forces behind the doodle noted, the 2016 International Women's Day doodle will "celebrate the doodle-worthy women of the future."
The female creators of the Doodle video reported that they interviewed 337 women and girls in 13 countries and asked them to complete the sentence "One day I will..."
The women's aspirations "were as varied as the women and girls who shared them," the project's creators reported, and ranged "from the very personal — swim with pigs in the Bahamas — to the very global — give a voice to those who can't speak — and everything in between."
Even Nobel Prize winner Malala Yousafzai weighed in, noting that one day she hopes to see every girl in school.
Ultimately, the filmmakers "found that our own 'One day I will...'s had grown bigger and richer, inspired by the women we had met," as they concluded.
Google didn't stop at simply projecting this message through its video, but also encouraged others to get involved through the hashtag #OneDayIWill: 
While women the world over may have a ways to go before they can truly be anything they want, Google's encouragement of women's ambitions is a welcome effort that will hopefully last well beyond International Women's Day.