Julia Roberts Deserves Better Than Her Wig on the 'Mother's Day' Poster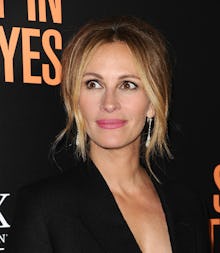 If the reviews for past Garry Marshall movies Valentine's Day and New Year's Eve are any indication, Mother's Day is going to be terrible. But Marshall and the cast can take solace in this: No matter how bad it is, it will not be as awful as Julia Roberts' wig on the poster.
Just look at it:
This is some "Taylor Swift at the 2016 Grammys" hair. This is "I pissed off the hair and makeup department and this is their version of revenge" hair. She may have that classic Julia Roberts' smile on her face, but her eyes are saying, "I have an Oscar, and I deserve more."
Admittedly, this isn't the first we're seeing of the wig. It's also clearly visible in the trailer:
But there's something distinctly inhuman about the wig in the poster. It's sitting there, taunting the scores of too-kind sons and daughters who will take their mothers to this movie they're so excited for. The wig knows. The wig is waiting for you.
Mother's Day hits theaters April 29. The wig will be waiting for you.