A Paralyzed Man Plans to Stand for His Wedding Ceremony Thanks to a Breakthrough Treatment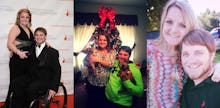 Wedding ceremonies often stir the emotions, but there won't be a dry eye in the house when Texas couple Kent Stephenson and Misti Richeson get married this weekend. 
That's because Stephenson, who is paralyzed from the chest down, plans to stand during his vows.
The 27-year-old former Pro-Am Motocross racer lost all movement and sensation below his chest in a 2009 accident, when his motor locked up after hitting an 80-foot jump. At the time, doctors told him he'd never be able to walk, stand or move anything below his injury level. 
But everything changed when Stephenson became one of four people with paralysis to test out a pioneering medical treatment to restore movement to his body. The treatment, which involves electrical stimulation of the spinal cord, has enabled him to voluntarily move his legs — and even stand for up to an hour.
That's why Stephenson plans to be on his feet for the duration of his wedding ceremony. "I got back a part of me that I was told was taken from me forever," he told Mic.
The breakthrough treatment is called epidural stimulation. It involves implanting a stimulation device over the dura — the thick membrane that protects the lower part of the spinal cord. Controlled by a handheld remote the size of a smartphone, the stimulator "awakens" the patient's nerve cells and provides signals that would otherwise come from the brain, according to the Christopher & Dana Reeve Foundation, which partially funds the research.
Researchers first tested the technology on Rob Summers, who became paralyzed from the neck down after getting hit by a car in 2006. In a 2011 study, researchers described how epidural stimulation allowed Summers to stand and move his legs. 
Stephenson and two other patients were the subjects of a second successful study, wherein researchers concluded epidural stimulation is "a fundamentally new intervention strategy that can dramatically affect recovery of voluntary movement in individuals with complete paralysis even years after injury." Now, the project is seeking funding to test epidural stimulation on 36 more patients.
"What they've been able to get back has really been just extraordinary," Reeve Foundation CEO Peter Wilderotter told Mic. 
Increased ability to move and stand means patients can avoid muscle atrophy and heart problems. "If we could get everybody who has spinal cord injury to stand for an hour a day," Wilderotter said, "the change in their medical costs and the change in their quality of life would be really, really dramatic."
Stephenson recalled the first time he moved his legs voluntarily after his accident — "a pretty memorable day," as he put it. With his stimulator switched on, Stephenson told the researchers he was going to try moving his leg. And then it moved. "Not just a flinch — it moved big," he said. "It drew all the way up and back, at a 90-degree angle."
"It was emotional for me, it was emotional for my mom," Stephenson said. "It was pretty crazy, just being able to do that."
Over time, Stephenson started working on standing with the aid of a special frame — first for 20 minutes, then 30 minutes, then up to an hour. He also does daily exercises to increase movement in his legs, ankles and toes — "small stuff," he said, "but for someone in my situation, they're all things you're not going to be able to move." Eventually, he hopes to be able to walk — but that will likely require better technology and, therefore, more funding.
Stephenson is only allowed to use the stimulator for two hours a day. But for those two hours, it's a step in the direction of having his old body back. 
"It feels very disconnected when the stimulator's off," he said. "When it's on, it feels like it's all connected again — like I'm getting pieces back that were just totally cut off before."
Stephenson was standing when he proposed to his now-fiancée. Richeson came home on Feb. 21, 2015, to find rose petals sprinkled outside the house and Stephenson standing outside with his frame, a bouquet of flowers in his hands. Then she spotted the couple's dogs, each wearing shirts emblazoned with a piece of the question: "Will you marry me?" An engagement ring was hidden in Stephenson's back pocket.
"At first I didn't even realize what was going on — I was just like, what are you doing?" Richeson told Mic. "I was so in shock!"
Richeson spotted the couple's dogs, each wearing shirts emblazoned with a piece of the question: "Will you marry me?" A ring was hidden in Stephenson's back pocket.
The couple's nuptials will take place at Elk Meadow Game Ranch in De Kalb, Texas, on March 12. Richeson cried when she found out Stephenson planned to stand during the ceremony.
"That's something that everyone looks forward to — walking down the aisle and seeing him standing there," she said. "Getting to stand with him through the whole ceremony is not something we ever thought would be able to happen."
Stephenson's friend is building him a standing device that will allow him to rotate his body — that way, he'll be able to watch Richeson walk down the aisle, then turn to face the officiant. He expects to need extra support around his knees — "they're probably going to be a little weak," Stephenson said, when he sees "how beautiful she looks."
"Just as their best days are ahead of them, the best days are really ahead for everybody living with spinal cord injury based on this discovery," Wilderotter said.
What's next? Researchers first need to test epidural stimulation on 36 more people with paralysis, bringing the total number to 40. They'll also have to get the procedure through Food and Drug Administration regulations so that it can be delivered to patients across the country — and even the world. 
"It's our hope that it's going to take a matter of years, not decades," Wilderotter said, adding that the plan is to run the 36 additional tests over the next three years.
Stephenson wants the next patients to get the same results, so researchers can fine-tune the treatment to maximize its effects. Eventually, he wants to "get to where we can walk."
But for now, in the days leading up to his wedding, Stephenson is reflecting on the journey he's been through with Richeson by his side. After all, the couple had only been together four months before his accident occurred. "It's pretty awesome to look back and see where we came from, and where we are now," Stephenson said. "It's pretty amazing."