Willow Smith Named Chanel Ambassador to "Expand the Perceptions of Beauty"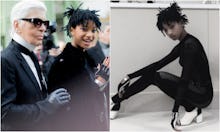 Is there anything those Smith kids can't do?
Just as her brother blazed trails at Louis Vuitton by modeling for the brand's womenswear line, 15-year-old Willow Smith got honored with the title of "brand ambassador" for none other than Chanel.
Smith posted Tuesday on her Instagram, thanking "Karl Lagerfeld and the entire team at Chanel for expanding the perceptions of 'beauty' by picking me to be the new Chanel ambassador."
And there should be no doubt that Smith will add her own youthful take on beauty and fashion to the brand, at least for as long as she's its face.
Chanel confirmed via Twitter that Smith is their new girl, just after she appeared front row with her mother Tuesday at the brand's Paris runway show.
"I feel like there is so much creativity going on that I want to inject some of my ideas and some of my energy into the brand," Willow told Teen Vogue backstage at the show, "because I feel like there's a lot of things that come from youth nowadays that need to be expressed and amplified to the world."
Among those things to be "expressed and amplified to the world" is Smith's trendy, IDGAF, "teens today" look, which includes a septum ring and blue eyeliner. It also includes her spiky, natural hair — a notable feature considering Smith is the first woman of color to be a Chanel ambassador in recent memory. 
She has been open about challenging beauty norms, especially those that value white beauty above all other examples. Smith has always celebrated her hair in particular, from the viral "Whip My Hair" music video in 2010 to her 2015 conversation with CR Fashion Book, in which she told the magazine, "I just want to have dreads. I want to embrace my full self, as natural as I can be."
Smith will no doubt do her best to embrace her full self in the context of Chanel. Already, her spiky hair has popped up in what looks like an official ad, shared by Smith on Instagram on Tuesday:
Hm, how about Dreads in a Chanel campaign? The thought isn't seeming too far off right about now...
h/t Teen Vogue