Perez Hilton Slut-Shamed Kim Kardashian West's Nude Selfie — But What About His Own?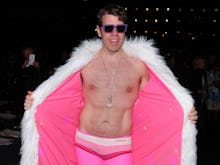 Kim Kardashian West took down her nude selfie-haters one-by-one Monday night, but there was still another slut-shaming force to be reckoned with: Perez Hilton.
The celebrity blogger warmed up when he tweeted out his support for actress and model Chloë Grace Moretz, who said she wished Kardashian West would be more of a role model for young women. Hilton went on to suggest Kardashian West take some pointers from Lena Dunham on the difference between "body confidence" and "self-exploitation." 
Read more: The Internet Is Furious at Jennifer Lawrence for Phone-Shaming a Texting Reporter
A number of Twitter users pressed Hilton on his criticisms, but one tweet perfectly nailed his hypocrisy:
While Kim K continues to catch flak for doing as she pleases with her body, it seems Hilton has gotten away scot-free for doing the same — and more than a few times. And this is nowhere near the first time men have wielded this sexist double standard. 
In January, Twitter user @CardsAgstHrsmt dedicated herself to calling out men who shamed women for nude photos while proudly posting their own. 
So what's the endgame here? Let's go to Nicki Minaj for this one. Having also been slut-shamed and accused of being too overtly sexual, the rapper once had this to say to V Magazine: "Women should be allowed to be as hardcore and sexual as we want, because men do it all the time."
Game, set, match.