Anna Wise, Kendrick Lamar's Right-Hand Girl, Debuts Empowering Feminist Anthem "BitchSlut"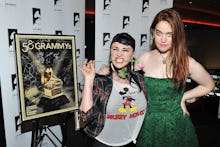 Whether or not you know her name, you've heard Anna Wise's voice. 
If you've listened to any of Kendrick Lamar's three latest records — good kid m.A.A.d. city, To Pimp a Butterfly or Untitled Unmastered — Wise has led you seductively through a chorus or five on songs like "Real," "These Walls," "Institutionalized," "untitled 03" and "untitled 05."
Lamar's album would have significantly different vibes had he never found Wise's sultry voice as a part of the indie outfit Sonnymoon. Now that she's helped Lamar with his ascension to crown prince of west coast hip-hop, Wise is set to strike out on her own.
Wise is currently gearing up to release her debut solo EP, and she's shared a new preview with a video for a track she's spectacularly titled "BitchSlut." 
The song breaks down the unfortunately classic dichotomy of women being labeled sluts and bitches for either consenting or declining sex.
"I, I know what kind you are," Wise sings on the chorus. "If I say no, I'm a bitch/Say yes I'm a slut." 
The record perfectly encapsulates the "theme" of the EP, which Wise recently described to Spin:
"There is a theme, and the theme is 'women,'" she said. "Women are great. We're fucking great, and I want to talk about us. And talk about myself, because I'm a woman. I guess it's kind of selfish. 'Let's talk about me!'"
Watch Wise's self-directed video, shot entirely on iPhone 6, below.