A '23 Jump Street'/'Men in Black' Crossover Film Is in the Works and Fans Aren't Impressed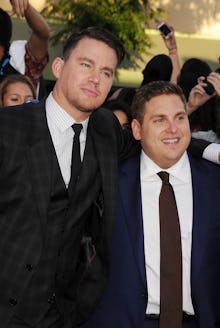 Jeffrey Mayer/Getty Images
On Friday, Variety reported that 23 Jump Street, the third in the rebooted 21 Jump Street franchise, will be a crossover film with another popular '90s franchise: Men in Black. News of the crossover first surfaced in 2014, during the Sony Pictures email leak.
While Channing Tatum and Jonah Hill are slated to appear in the 23 Jump Street/Men in Black crossover, Variety reported that they will not be joined by Will Smith and Tommy Lee Jones, who appeared in the original Men in Black franchise but whose roles will be recast with "younger, fresher faces." Either way, confirmation of the crossover moving forward has proven to be polarizing.
Read more: Watch Beyoncé and Channing Tatum Team Up to "Run the World" on 'Lip Sync Battle'
Many criticized the crossover as yet another example of how Hollywood keeps rehashing old ideas.
Some questioned whether crossovers were even viable from a box office standpoint.
Many hinged on an "it's so bad that it'll be good" stance.
Whereas others just said flat out that the crossover is a bad idea.
While details on the plot are still under wraps, James Bobin, director of 2011's The Muppets as well as the forthcoming Alice Through the Looking Glass, is in talks to direct 23 Jump Street/Men in Black crossover, sources told Variety. Bobin will replace Phil Lord and Chris Miller, the directors of the first two Jump Street films. Variety reported that while the film hasn't been an official greenlight yet, production on 23 Jump Street is expected to start sometime in June.