John Legend Remixes 'Downton Abbey' Theme Song to Highlight Show's Whiteness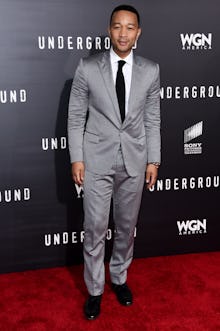 British drama series Downton Abbey's theme song was lyricless — until John Legend brilliantly stepped in with his rendition of it, perfectly summing up the show's whiteness. 
In honor of the show's series finale, Legend performed a lyrical version of the haunting theme song on Monday's episode of Jimmy Kimmel Live, making fun of the elite white-people cast and the elite white-people activities they regularly took part in throughout the series' six seasons. 
Read more: John Oliver Turned His Sights On the $100 Billion Problem You Never Knew Existed
"Everyone we know is very white," Legend dramatically belted. "We don't have one black friend." 
And don't think grandmama, played by Maggie Smith, was getting off the hook. "Grandmama is always such a witch/ She needs to get laid," he sang. 
"It is time for tea and then a nap/ I want a scone right now/ Let's all ride horses and talk smack," Legend continued.
Sums it up.