Steven Avery's Lawyer Is Tweeting Details of the Appeals Case, Has Found "Airtight Alibi"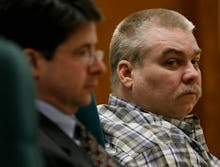 Dan Powers/AP
Kathleen Zellner, the attorney who will defend Making a Murderer subject Steven Avery as he appeals his conviction for the 2005 murder of Teresa Halbach, has made Avery's "airtight alibi" a matter for Twitter discussion. This is perhaps not surprising, considering the fact that she's used the platform to detail the case since she took it up in early January. But her latest tweet gives us perhaps the most revealing look into her defense yet.
"Cellphone tower records of SA & TH provide airtight alibi for him," Zellner's March 6 dispatch reads. "She left the property he didn't. #MakingAMurderer #UnmakingAMurderer"
Read more: Brace Yourself: 'Making a Murderer' Might Just Be Coming Back for Season 2
That line of defense looks a lot like the one highlighted by Sarah Koenig in the first season of her hit podcast, Serial, which followed the case of Adnan Syed. Convicted in 2000 of murdering his ex-girlfriend, the then-teenaged Syed was sentenced to life in prison. He returned to court in February for a retrial hearing on his latest request for appeal. In November, Baltimore Judge Martin Welch ruled that the cellphone tower records the prosecution warranted re-examination because carrier AT&T said they couldn't indicate Syed's location.
Cellphone tower records are a tricky form of evidence because, according to the Washington Post, their ability to accurately pin down a suspect's location at the time of a crime is limited. As evidenced by Zellner's Twitter feed, though, they're only one part of the attorney's forthcoming argument in the Avery case. 
And if her track record is any indication of how this will shake out, she's building a solid case. Specializing in each of the most salient areas in which Making a Murderer indicates the criminal justice system failed Avery, Zellner has exonerated 17 innocent men.
Here's the argument we can expect from her, as laid out on Twitter thus far:
A dismissal of the sweat-under-the-car-hood argument that muddied the waters after the world binge-watched the Netflix docudrama and formed its own conclusions about Avery's innocence:
The use of forensic evidence to argue certain clues were planted: 
And to suggest other evidence was tampered with:
The dubious ethics and ulterior motives of previous prosecutors:
That other suspects were ignored during the initial investigation: 
That whoever allegedly planted evidence wasn't particularly smart about it: 
That a false confession was extracted from Brendan Dassey: 
That the forensics just don't add up: 
That perjury clouded witness testimony: 
That we may be about to see the scientific evidence presented by the prosecution overturned: 
Correction: March 8, 2016